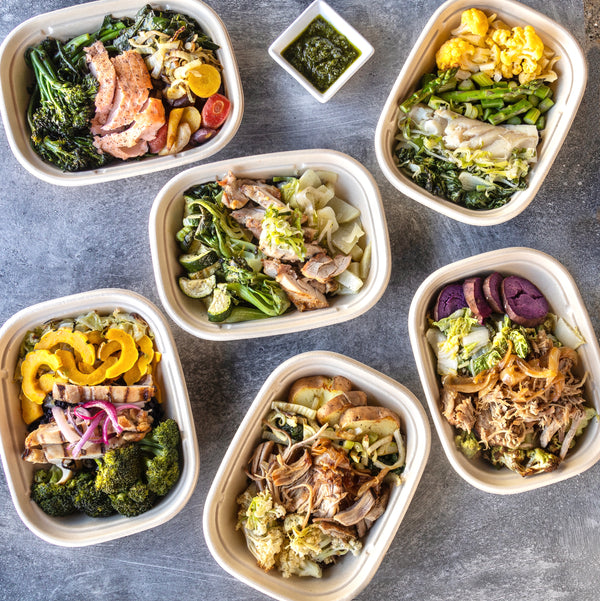 Our Recipe
Our Recipe = Protein + Veggies + Power grains.


Everything cooked with Olive Oil, Salt and Pepper only.
Veggies and Grain combination are new every delivery.

Meal Info
Our meals are 12.5 oz and consist of:
3 oz of protein

3.5 oz of power grain

6 oz of assorted vegetables

A minimum of 3 different veggies per meal with variety of the veggies changing all the time.
Delivery
We deliver on Mondays and Thursday, from 9am to 4pm

For Mondays, place your order by Sunday 9am

For Thursdays, place your order by Wednesday 9am

Get your meals delivered one-time or as a subscription 

Subscriptions renew every Friday
Macros
Chicken:
Regular: cal 420, fat 20g, carbs 37g, protein 24g
Extra Protein: cal 568, fat 26g, carbs 45g, protein 39g
Beef:
Regular: cal 489, fat 21g, carbs 45g, protein 33g
Extra Protein: cal 484, fat 24g, carbs 45g, protein 49g
Pork:
Regular: cal 524, fat 26g, carbs 45g, protein 28g
Extra Protein: cal 641, fat 33g, carbs 45g, protein 41g

Lamb:
Regular: cal 548, fat 32g, carbs 37g, protein 29g
Extra Protein: cal 676, fat 40g, carbs 37g, protein 41g

Salmon:
Regular: cal 481, fat 22g, carbs 45g, protein 27g
Extra Protein: cal 572, fat 26g, carbs 45g, protein 40g

Cod:
Regular: cal 399, fat 15g, carbs 45g, protein 21g
Extra Protein: cal 441, fat 16g, carbs 45g, protein 31g
Shrimp:
Regular: cal 411, fat 15g, carbs 45g, protein 26g
Extra Protein: cal 460, fat 15g, carbs 45g, protein 38g